☰ MENU
MOCA Studio
Fall 2017
MADWORKSHOP | USC | ARTCENTER
The USC School of Architecture partnered with MADWORKSHOP and ArtCenter College of Design Fall 2017 semester to reimagine and animate the street level plaza and entrance of The Museum of Contemporary Art, Los Angeles's downtown Grand Avenue location. Final design proposals, including drawings, models and renderings, were presented to MOCA Director Philippe Vergne and Chief Curator Helen Molesworth on Dec. 13 at the MOCA auditorium. This class marked the first collaboration between students and faculty from these two esteemed design schools. Under the guidance of USC professor Geoffrey von Oeyen, 12 fourth-year students from USC Architecture were selected to participate in this unique project. The students worked with 12 ArtCenter students advised by ArtCenter faculty Chiara Ferrari and Jeff Higashi, to transform spaces such as the museum's café, lobby lounge, courtyard and bookstore, and were required to submit a short video, a scale model of the new MOCA spaces, and schematic architectural and design drawings. Final studio presentations offered imaginative solutions to many of MOCA's challenges, including wayfinding and equal accessibility for all patrons.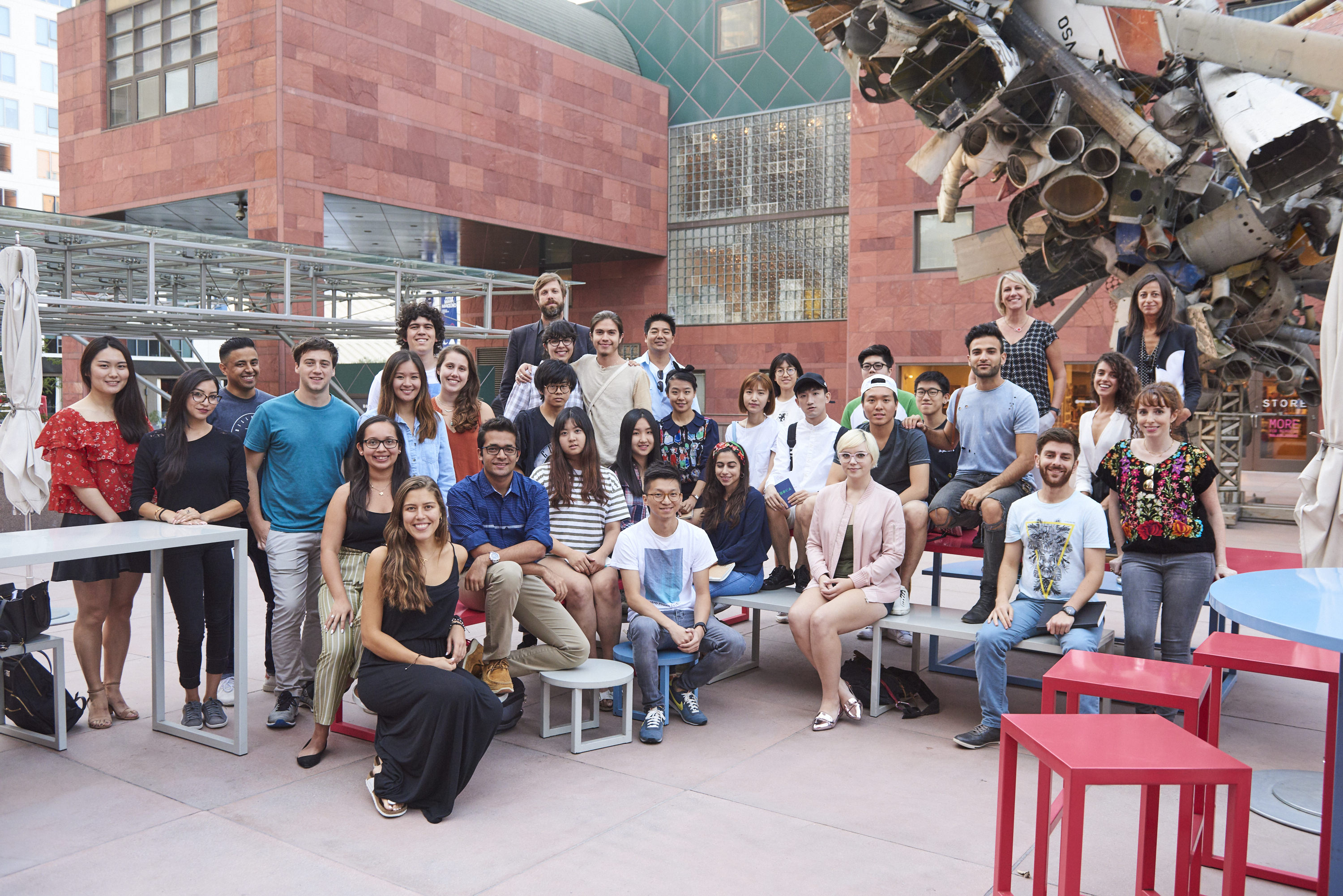 Los Angeles, Calif. – September 18, 2017. The MADWORKSHOP Foundation has announced a collaboration between the ArtCenter College of Design and the USC School of Architecture to reimagine the street level plaza and entrance of MOCA (The Museum of Contemporary Art, Los Angeles) Grand Avenue location. MOCA Grand Avenue, which opened in 1986 and was designed by Japanese architect Arata Isozaki, is located in downtown Los Angeles opposite The Broad art museum and Walt Disney Concert Hall.
The project comprises a team of 12 students from each school. A passion for contemporary art, museum design and industry, architecture and communication design were required for the students selected to work on this unique project.
This is the first collaboration between students and faculty from USC and ArtCenter, whose assignment is to design and reimagine the plaza and courtyard entry experience at MOCA. The MOCA project is the brainchild of Santa Monica based MADWORKSHOP Foundation which is also funding the initiative. Created by noted LA architect David C. Martin and his wife and MOCA board member Mary Klaus Martin, the MADWORKSHOP Foundation recently sponsored the award-winning Homeless Studio at USC under the guidance of foundation director Sofia Borges.
"Mary and I have a keen interest in the arts, design, education and have been founders and strong supporters of MOCA for many years. The chance to activate the iconic plaza at MOCA for the museum itself and the community at large is a wonderful opportunity. Our foundation, MADWORKSHOP, looks forward to supporting the 2017/18 team of students from ArtCenter and the USC School of Architecture and giving them all the key ingredients for success," said MADWORKSHOP co-founder David Martin.
The Museum will become an active client for the students, with MOCA Director Philippe Vergne, ArtCenter Professors Jeffrey Higashi and Chiara Ferrari, and USC Professor Geoffrey von Oeyen, overseeing the ideas and designs to be presented for the plaza, entryway and surrounding courtyards of the museum.
Project client and MOCA Director Philippe Vergne added,
"There is no better way to be contemporary and stay contemporary than to work with students who bring new ideas and new perspectives and approach the world as a place to inhabit and improve.  We are thrilled to enlist the talents and imaginations of this group to help us solve very real conviviality challenges we have at MOCA's Grand Avenue location. This partnership will help us understand how to better serve our visitors: how to allow them to "occupy MOCA". I am so grateful to MADWORKSHOP, Mary and David Martin for being the enablers of this dialogue."
Key requirements of the two student teams are to create:
Scale model of new MOCA spaces
Schematic architectural & design drawings for future realization
Short video of project
Process storybook to highlight project and participants
Signage, environmental graphics and content (artwork) proposal for MOCA Grand Avenue
Working prototypes with a focus on fabrication
To transform MOCA's entry courtyard the design students will stay within the parameters of building design and construction, including code, cost and existing site constraints.
+ Photos by Buddy Bleckley